Now we provide same day quality appliance repair and service in Pasadena and surrounding ares. We are family owned and operated company, that is why we always stay behind our work and we guarantee our work with not only our word but also a written Invoice with our 1year guarantee on parts and 30 day labor guarantee. We started with just 2 guys now we have over 12 technicians plus 4 dispatchers so we always provide same day service with quality result, in pasadena we one of the most respectful and trustful companies. We do not take advantage of our customers, we understand hard times in economy , that why we only charge $20 service call and it's free service call with repair.
Refrigerator Repair Experts of Pasadena,Ca
Washer Repair Experts of Pasadena, CA
Dishwasher Repair Experts of Pasadena, CA
Dryer repair Experts of Pasadena, CA
Oven repair experts of Pasadena, CA
Stove Repair Experts of Pasadena, CA
Air Conditioning Repair experts of Pasadena, CA
Sub-Zero Appliance Repair Experts, Sub zero refrigerator repair
Thermador Oven repair and Refrigerator Repair
Maytag Refrigerator Repair Experts we dedicated to be on time
Frigidare Refrigerator Repair we are local pasadena repair company
Whirlpool Refrigerator repair team to the rescue call us today 818-298-8165
GE Refrigerator Repair the most comment problem with GE refrigerators is main computer board that gets overheated beacause once a year condensor service required for the best results we use special chemical non toxic sprays that cleans all the dust off your condenser
Licensed | Insured
1(818)298-8165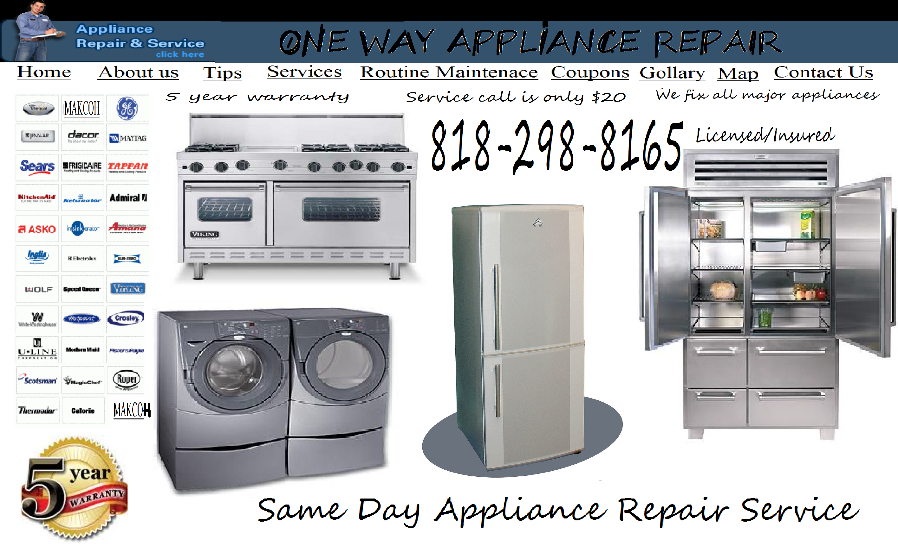 Dedicated Local Appliance Repair company, we provide appliance repair on following brands ( Sub-Zero | Thermador | VIKING | LG | GE | Whirlpool | Frigidare | Maytag | Amana | Hot-Point) and we fix following Appliances ( Refrigerators | Washers | Dryers | Ovens | Stoves | Air Conditioning | Commercial Refrigeration | Walk-in Cooler repair ) We service Los Angeles and Pasadena since 2008 I know that it does not sound that we might have enough experience to be qualified to fix your major appliances, but there is no need to worry because in our company we have technicians that have over 25 years experience in appliance repair industry, our proffasional team always goes to school to get more education on new appliances with computer boards, it's actually easier to to work on newer models because you can always put the washer in self diagnose mode and it will tell you exactly what the problem is for example if it's a washer whirlpool it might give you error code like F35 or SUD .
We got those skills to fix those appliances Refrigerator with ice machines, dishwashers with disposals, ONE WAY APPLIANCE REPAIR is The Right Way To Fix Your Appliances: All Rights Reserved 2008-2020 Cyber Attack:: 818-298-8165 Walk-in Refrigerator Repair Experts of Pasadena, CA