818-298-8165 One Way Appliance Repair Experts of Woodland Hills is always here to help you with any appliance problems you might have we always here to the rescue we repair following brands( Viking, Sub-Zero, Thermador, Bosch, Kenmore, LG , GE , Maytag, Frigidare , Whirlpool, Amana..............) and we repair following appliances:
= Refrigerator Repair Woodland Hills
= Washer Repair Woodland Hills
= Dryer Repair Woodland Hills
= Oven Repair Woodland Hills
= Stove Repair Woodland Hills
= Air Conditioning Repair Woodland Hills ( AC repair)
= Commercial Refrigeration Woodland Hills( We repair all commercial refrigerators from Walk-In coolers to stand free units. Any brands)
Woodland Hills Refrigerator Experts( We also repair commercial refrigerator repair in woodland hills) we always on time(3 hour window within your budget) we provide same day service but 405 freeway and 101 freeway traffic is always on our way! But ONE WAY Appliance repair experts passes thru all the traffic we might have in woodland hills to the rescue 818-298-8165! please write our number to your phone book so if you do have any problems in the future you know where to call to Local appliance repair experts of woodland hills and chatsworth.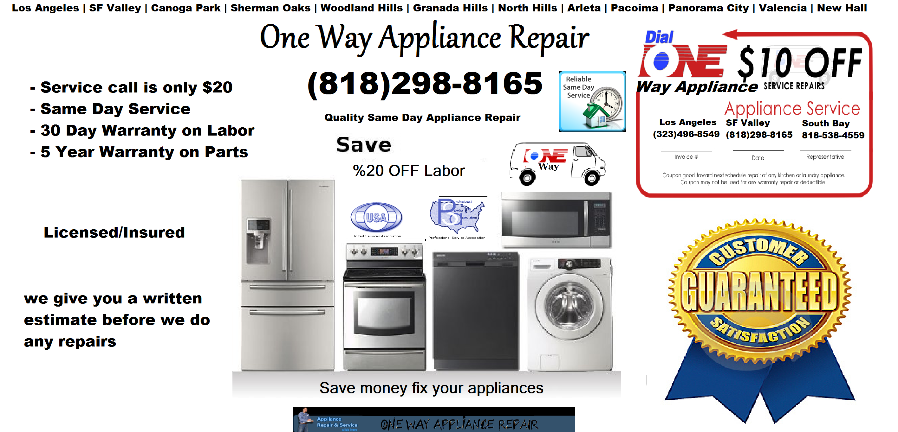 We protect your appliances from any future problems, we give you a written estimate before we do any repairs, we repair any kind of appliances from washers to dryers and refrigerators , we specialize in all major appliances, if you like to save money in woodland hills than you in right web site we here to save you some money and we will give you warranty for 30 days on labor and 1 year warranty on parts 818-298-8165 Licensed | Insured Appliance Repair Technicians always here to solve any of your appliance problems, here we are the One Way Appliance Repair Experts of Woodland Hills, California
ONE WAY APPLIANCE Repair Experts of woodland hills we always here to fix your refrigerator if your refrigerator stopped producing cold air there is no reason to worry because one way appliance repair experts of woodland hills, we carry all type of different freeons and compressors , we replace them every single day, we carry every single type of freeon you could even think about it. When refrigerator stops freezing it is kind of a disaster because all your food is getting bad but once again no need to worry One Way Appliance PROS
Washer repair experts of woodland hills from your local town we bring all parts in our Vans , Drain Pumps, main motors, computers boards, welding equipment, Kenmore Drain Pump we carry all the time in our trucks for one reason that it always brakes and it one of the most possible problems you could come close to when your washing machine is not draining properly or it is not draining at all, we are local affordable and most reliable company in woodland hills !
who every came up with the dryer is a very smart person but that person never explain us how to use it properly and how to maintain your dryer the right way don't forget to call ONE WAY APPLIANCE REPAIR Company to repair your dryer , we repair problems when your dryer does not spin does not hit any problems with your dryer we could fix it, we are licensed insured for your sefety call the PRO 818-298-8165 we fix all major appliances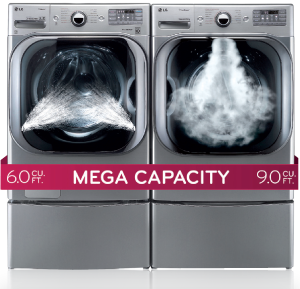 We got those skills to fix those appliances, washing mashing with steam, dryer with steam , Refrigerator with ice machines, dishwashers with disposals, ONE WAY APPLIANCE REPAIR is The Right Way To Fix Your Appliances: All Rights Reserved 2008-2020 Cyber Attack:: 818-298-8165